Das Geschäft ist ab 28. Juli geschlossen, die Auslieferung beginnt am 3. August. In Notfällen :
076 343 36 60
.

Fusion Body Art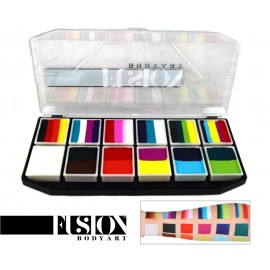 Fusion palette Carnaval Kit
In Stock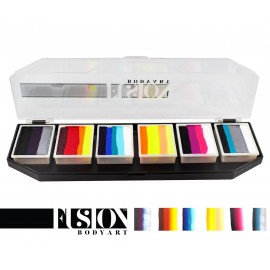 Fusion palette Hero Power By Onalee Rivera Hero Power by Onalee Rivera includes: 6 Fusion Body Art mini Split Cakes: Boom, Bam, Whaam, Zap, Kapow and Crash
Out of stock
Fusion palette Leanne's Collection SchmetterlingLeanne's Butterfly Palette fx includes:Leanne's Lollipop fx, Berry Butterfly fx, Berry Pretty fx, Tink fx, Leanne's Sunshine fx and Leanne's Princess fx
In Stock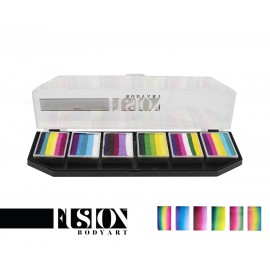 Fusion palette Leanne's Pretty Rainbow Leanne's Rainbow Magic, Leanne's Indigo Princess, Leanne's Gypsy Rose, Leanne's Secret Garden, Leanne's Spring Fairy and Leanne's Rainbow Flowe
In Stock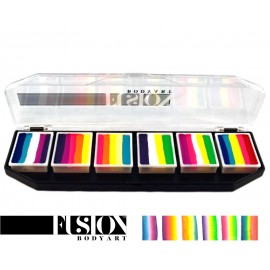 Fusion palette Leanne's Tropical Collection Leanne's Tropical Palette fx includes: Leanne's Purple Pixie fx, Summer Days fx, Leanne's Flower Fairy fx , Fancy Eyes, Leanne's Rainbowfx (neon) and Neon Nirvana fx
In Stock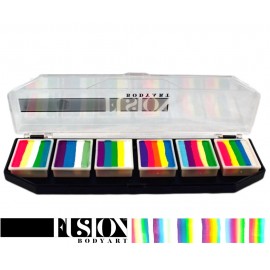 Fusion palette Sirenen & EinhornsSpectrum Palette Unicorns & Mermaids: includes 6 Fusion Body Art mini Split Cakes: Mermaid Splash, Mermaid Dreams, Mermaid Tale, Unicorn Magic, Mermaid Glow & Unicorn Spark
In Stock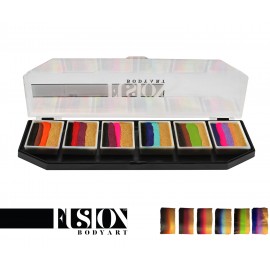 Fusion palette Natalee Davies Gold Range Entworfen von der äußerst talentierten australischen Künstlerin Natalee Davies. Natalees geteilte Kuchenpalette kann für Blumen, Schmetterlinge, Feenflügel, Sonnenuntergänge, Kränze und mehr verwendet werden. Jede sorgfältig entworfene Farbkombination kann allein verwendet werden, oder Sie können sie im selben...
In Stock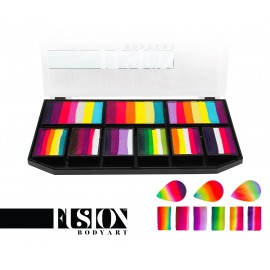 Fusion Petal palette - Leanne's Fairy Collection Top Row: Leanne's Bubblegum Princess. Summer Days (XL) and Leanne's Beach Baby Bottom Row: Leanne's Vivid Rainbow, Leanne's Bella Rose, Leanne's Bella Luna, Leanne's Emerald Garden. Leanne's Tiger Lilly and Leanne's Pink Pixie.
In Stock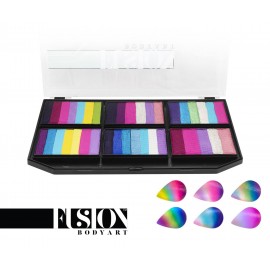 Fusion Petal palette - Leanne's Happy Pixie Top row: Leanne's Sweet Dreams Butterfly, Leanne's Cherry Blossom Butterfly, Leanne's Pretty MermaidBottom row: Leanne's Rainbow Unicorn, Leanne's Bluebelle Shimmer, Leanne's Pretty in Pink
In Stock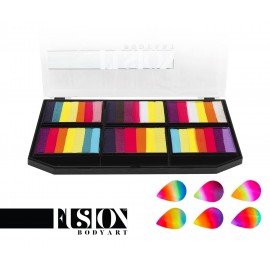 Fusion Petal palette - Leanne's Vivid Rainbow Top row: Leanne's Vivid Butterfly, Leanne's Berry Butterfly XL, Leanne's Tangerine DreamBottom Row: Leanne's Summer Love, Neon Nirvana XL, Leanne's Pretty Rainbow
In Stock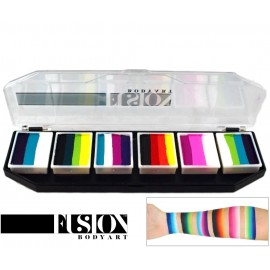 Fusion palette Rainbow BurstSpectrum Palette - Rainbow Burst includes: 6 split cakes Snow Queen, Jungle Snake, Wild Berry, Fire Flames, Rose Princess, Sea Creatures
In Stock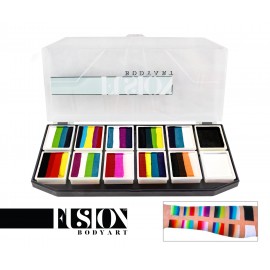 Fusion palette Rainbow Explosion Kit Spectrum Palette - Carnival Kit includes: 10 split cakes & 2 solid colours , Sea Creatures, Leanne's Rainbow, Wild Berry, Jungle Snake, Snow Queen, Prime Strong Black, Fire Flames, Flower Fields, Bold Rose, Simple Rainbow, Furry Critters & Prime White
Out of stock